Oxford
Oxford – for a body in balance
The chair has been developed with a focus on the body's anatomy and functions.
It activates your abdominal muscles, inner thighs, and buttocks, so you get a natural movement in the hip joint and back, which gives a body in balance.
When sitting on the chair using the backrest:
To sit correctly on the Oxford chair, it is important that you have your feet and heels placed in front of you, so that you sit with your feet flat on the floor and support your soles of feet and legs. Thereby, the chair forces you to use your legs, buttocks and abdominal muscles for sitting.
When you lean back and use the backrest, you must ensure that there is space between the seat and the backrest so that the buttocks, hips, and tailbone are free.
In this sitting position, you keep a straight line in the spine and thereby do not strain your shoulders and back. Instead, you use inner thighs and abdominal muscles to sit with and get a correct lumbar sway.
When sitting on the chair using a chest support:
It is important that the support is placed at a height where there is room for the chest. Again, your must have your feet and heels placed in front of you, so that you support with flat feet against the floor. You use the buttocks, inner thighs, and abdominal muscles so that you sit up straight, which has a positive effect on the diaphragm, which activates your breathing.
With the correct sitting position on the Oxford, you promote the body's equilibrium and balance and avoid work myoses.
With the unique mechanism you have easy stepless adjustment of the backrest angle, 16° forward and 6° back. Also, you can set the backrest to follow your body's movement.
This Oxford model is upholstered with cold foam and imitation leather, has a 610 mm. aluminum base and 50 mm and easy-rolling castors.
Seat diameter: 360 mm
Backrest: 27 x 23 cm
Seat height medium gas spring: 54-73 cm.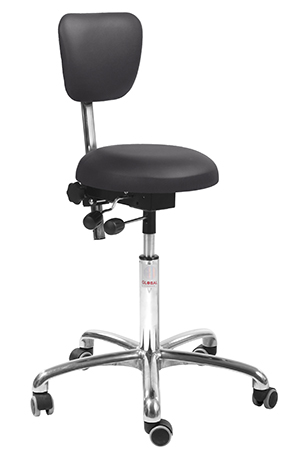 Article number: 82 2 080 2 2