Echo saddle chair with alu base
Echo has a two-part seat that relieves pressure on the spine and pelvis. This means that you can sit comfortably on this chair for considerably longer than on a regular saddle chairs. You can easily and infinitely adjust the height, angle and width of the seat for the best possible comfort.
This ergonomic saddle chair helps you to sit properly and relaxed. You sit in a so-called rider position, which holds the spine in its natural curve, which reduces tension in the neck, shoulders and loins. The saddle chair also improves blood circulation in the feet and legs as it opens the angle of the hips and knees.
This chair is with a 500 mm. alu base, 50 mm. easy rolling castors and upholstered with genuine leather, which provides a durable surface that is easy to hold.
The chair is very suitable for a variety of workplaces, such as offices, hospitals, laboratories and hairdressing salons.
Dimensions: W 400-440 x D 380 mm.
Seat height medium gas spring: 41-60 cm.
3D model and Mixed reality
With this QR code you get the opportunity to visualize your chair in your own environment. Scan it with your mobile phone or tablet and let the model be placed in the real world.
Does not work optimally in Microsoft Internet Explorer. We recommend that you use a different browser. For example Chrome or Firefox.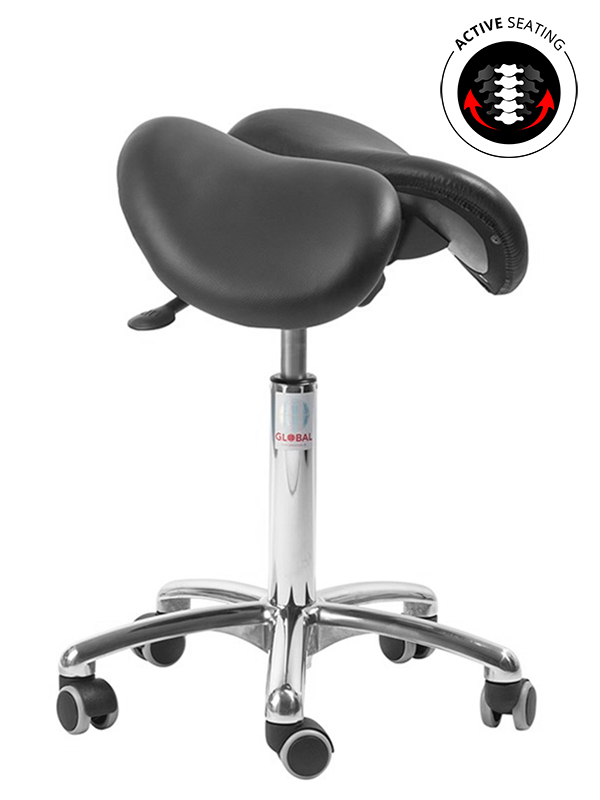 Article number: 46 2 0230 1 2